SPIN
Starring The Bicycle as Muse, Musical Instrument and Agent of Social Change
Written and performed by

 Evalyn Parry  
Directed by
Ruth Madoc-Jones  
Production design by
Beth Kates  
Featuring
Brad Hart playing the Bicycle  
"Part theatre, part music gig, part spoken word poetry, part documentary: whatever it is, it is brilliant" Toronto Star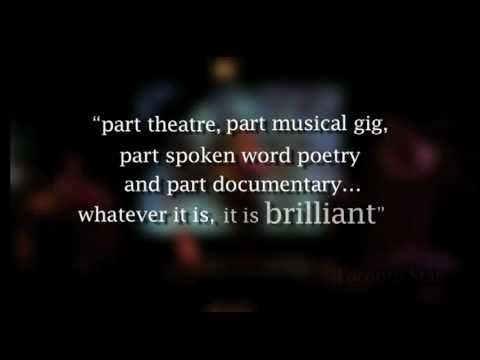 Innovative, award-winning Toronto artist evalyn parry takes her audience on an uncommon theatrical and musical journey in SPIN, her tour-de-force performance celebrating the Bicycle as muse, ¨musical instrument and agent of social change.
Inspired in part by the incredible true tale of Annie Londonderry – the first woman to ride around the world on a bicycle in 1894 – parry spins a web of stories which travel from 19th century women's emancipation to 21st century consumer culture, peeling back layers of history to ultimately reveal a profoundly contemporary and personal heart to her theme of liberation.
parry's co-star is a vintage bicycle:  suspended in a mechanic's stand on stage, and outfitted with electronic pick-ups, the bike is played by percussionist Brad Hart, who conjures an astonishing array of sounds on his "iron horse", creating a richly textured and utterly unique sonic accompaniment to Parry's songs and monologues.
SPIN is staged by award-winning director Ruth Madoc-Jones with video and production design by acclaimed designer Beth Kates, and sound design concepts by Anna Friz.
The 2012 and 2013 tours of SPIN have been made possible in part from a grant from the Ontario Arts Council Touring Program.
"…a welcome breath of fresh air….SPIN makes something beautiful out of taking your life into your own hands"  Globe & Mail
"…this magnetic artist and her winning production team invest the work with such intelligence and playfulness, it's hard not to be charmed.  NOW Magazine
"the depth Parry gives to the concept of the bicycle through her script is quite staggering…an ingenious mixture of songs, monologues, video projection, and modern technology " Torontoist
"Part spoken word performance, part rock concert, part political manifesto… completely awesome." Mooney on Theatre
"SPIN is polished folk performance art…the lyrics are potently lean and the arrangements, including Parry and Hart's harmonies, are sensuously textured."  Georgia Straight
"Parry's music and lyrics are great, the performance winning. And she spikes it with wit, wisdom and truisms…she charmed the bicycle clips off us with a couple of electric guitars and a strong, ever-so-slightly throaty voice."  Jo Ledingham "On The Scene"
_____________________________________
For Bookings Contact:
Tammy Fox – The Collection Agency Entertainment
(905) 372 – 6161 / tammyfox@thecollectionagency.ca
_____________________________________
produced by Don Kerr, evalyn parry and Brad Hart
Nominated for a 2011 Canadian Folk Music Award,
"Pushing the Boundaries"
PRODUCTION HISTORY:
The world premiere of SPIN was presented by Buddies in Bad Times Theatre in association with OutSpoke Productions, in March 2011.
SPIN has also been presented by:  The Cultch (Vancouver), Uno Festival (Victoria), The Northern Arts and Culture Centre (Yellowknife and tour of NWT), The Yukon Arts Centre (Whitehorse), The Fredericton Playhouse (Fredericton, NB), The Imperial Theatre (Saint John, NB), The Thalian Hall (Wilmington, NC), Wingate University's Batte Centre (Wingate, NC), The Grand Theatre (Kingston, ON), Harbourfront Theatre (Summerside PEI), Kings Theatre (Annapolis Royal, NS), The Richmond Hill Centre for Performing Arts (Richmond Hill, ON), The RiverRun Centre (Guelph, ON) The Capitol Theatre (North Bay ON), Brock University Centre for the Arts (St Catharines, ON), Oakville Centre for the Performing Arts (Oakville ON), Harbourfront (HarbourKids Festival, Toronto), Sound Symposium (St John's, NFLD), QueerActs Festival (Halifax), The Toronto Cyclists Union (Toronto), The Canadian Festival of Spoken Word, Almonte Cycling Month (Almonte ON), Killaloe Lions Club (Killaloe ON).
SPIN was developed and created with support from Buddies in Bad Times Theatre, the Ontario Arts Council, the Toronto Arts Council, the Canada Council for the Arts and the Banff Centre  as well as all the amazing private OutSpoke donors.
Click HERE for upcoming SPIN performances